Skip Main Navigation
Communicate Your Results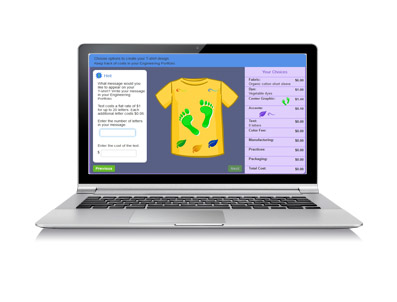 Using an image of your design can help to communicate your ideas clearly.
Scientists and engineers communicate their work at conferences and through articles in magazines and trade journals. Now it's your turn! Write a school newspaper article to inform your school community about your cause and how your T-shirt supports this cause both in the manufacturing and the message. You may compose your article on page 17 of your Engineering Portfolio or use a word-processing program.
Next, work with your STEM team to develop a two- to three-minute presentation about your T-shirt design. All team members must participate in developing and delivering the presentation.
Your article and presentation must:
Clearly state your cause.
Explain why you chose your cause.
Explain how your T-shirt design supports your chosen cause, both in its message and in the materials and processing choices you made.
Describe how your choices ensured that your T-shirt was produced in an affordable and eco-friendly way.
Cite evidence for your choices.
Include an image of your T-shirt.
Involve all team members.
Refer to page 16 in your Engineering Portfolio for additional instructions. You may also want to review the article rubric and presentation rubric before beginning.
When each team is finished presenting, it is time to vote! Vote for a T-shirt that appeals to you, features a clear message, is affordable and is produced using eco-friendly materials and methods.
Good luck, and may the best T-shirt win!